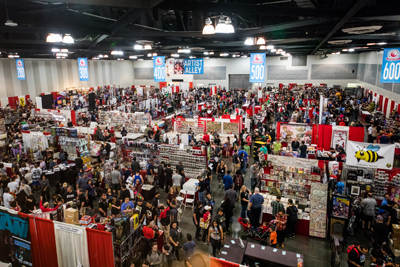 May 17, 2017
Comic Con Revolution Returns May 19 & 20, 2018 for Two Full Days
Comic Con Revolution, The Inland Empire's first full scale comic con, opened big attracting 5449 unique attendees. This number does not include exhibitors or staff. Organizers, Atomic Crush Events (ACE), have announced that the event will return to the Ontario Convention Center in Ontario California for two days in 2018 May 19 & 20.
"We wanted to create something special for Ontario and the entire Inland Empire to call their own," said ACE Co-Founder Gabe Fieramosco. "We cant thank them, as well as our exhibitors and guests, enough for the support they showed us. Long live the 909! Cant wait to see you all again next year."
"[Comic Con Revolution] reminded me of San Diego Comic Con before the movie studios took over. It was just about the comics, said attendee Ronald Scott of Claremont, California.
Comic Con Revolution will grow in 2018 taking over both exhibit halls as well as the Mayoral Ballroom. The event will add additional features including a Professional Creator's Summit on Friday, May 18th, play host to the Girl Scouts of Greater Los Angeles as they complete their Comic Book Artist badge while growing the exhibitor and guest lists.
"We are already hard at work laying the foundation for next year's Comic Con Revolution," said ACE Co-Founder Mike Scigliano. He added, "And we'll spend the next 12 months preparing an even bigger and better experience."
Exhibit sales are already underway for Comic Con Revolution 2018 with ticket sales opening in the fall of 2017.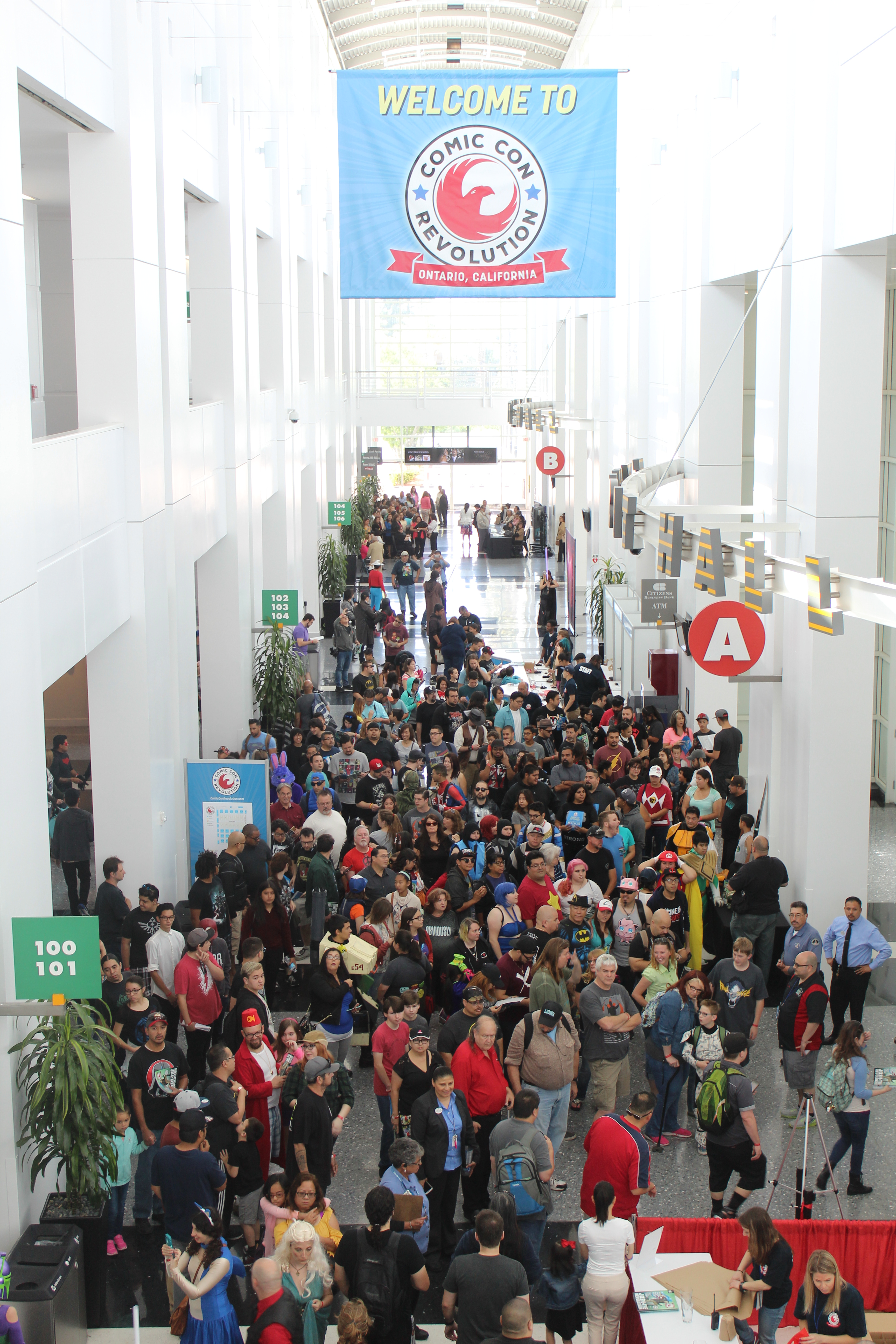 May 15, 2017
When we decided to do our first convention as Atomic Crush Events and to debut Comic Con Revolution in Ontario we hoped the fans would enjoy it. Never in our wildest dreams did we expect to be embraced by the community the way we were - attendees, exhibitors & guests alike. We are humbled by your support and by all the smiling faces we saw last Saturday. We look forward to the day we can be 909 again, even if only for the weekend.
So mark your calendars, tell your friends and start preparing for May 19 & 20, 2018 when Comic Con Revolution returns!
Thank you,
Gabe, Drew, James, Mike & the rest of the CCR Team!

May 8, 2017
After months of hard work the time has arrived!
Comic Con Revolution
comes to the
Inland Empire
this
SATURDAY
at the
Ontario Convention Center
!
Here's a quick rundown of what we have in store for the show Saturday.
We open at
10:00am
on
Saturday May 13th
. If you purchased a ticket in advance (online or at your local comic shop) you can get in at
9:30am
.
We will start checking in advance ticket holders at
7:30am
--
if you want to get in when doors open at 9:30am we suggest arriving early and checking in at the Advance Ticket counters in the lobby
.
At 9:15am we will have an opening ceremony presided over by
Ontario Mayor Paul Leon
. Afterwhich the doors to the revolution will be flung open.
Click here
to check info on the location, parking, cosplay weapons & harassment policies and more.
Our Guest List
- we've added a ton of great guests that you may have missed so check it out!
Our Programming Schedule
- over 30 hours of great panels all capped off with our 1st Annual Cosplay Revolution Contest!
Our show floor is packet with artists, writers, art, comics, cosplay, toys, games and more. Check out our
Artist Alley List
and
Exhibitor List
to see who will be there!
Want to download a PDF of our program book in advance? Just
click here
and plan ahead!
And hit our
News
page for all the recent updates about Comic Con Revolution
Keep an eye out here on our website and our
Facebook
,
Twitter
and
Instagram
for updates throughout the week. Don't be shy - post on social media (don't forget to tag us). Be an active part of the Comic Con Revolution! The official tag for the day is #CCROnt and don't forget to use our custom Snapchat geofilter when posting those awesome snaps!
See you all Saturday!
Still don't have your tickets? What are you waiting for?
Click here
to buy your tickets today!
May 3, 2017
Here we are, only 10 days until the big day. We're buttoning up the last details and prepping to make Comic Con Revolution one heckuva day. We've got more amazing guests than you can shake a pencil at, a packed exhibit hall, a full day of panels and programming all set for you to enjoy.
We have so much going on that we bet you are asking yourself "How can I make sure I don't miss anything?" We've got just the thing - an advanced look at our Program Guide. You can download a digital copy of our program guide early and plan ahead. Just
click here
and get crackin'.
Still don't have your tickets? What are you waiting for?
Click here
to buy your tickets today!
COMIC CON REVOLUTION SPONSORS
---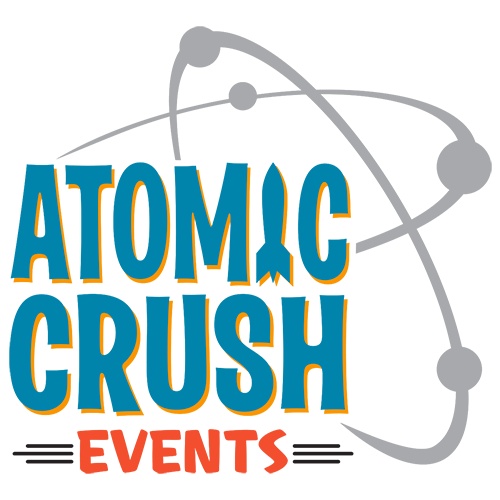 About Comic Con Revolution
Comic Con Revolution was founded on very simple principles. We are excited to celebrate comics and the creative arts. At the absolute core of what we do are the creators themselves. The people who create the comics, games, toys, film, movies and more that we all love. Without their tireless dedication to creating the fantastic worlds we all get lost in, events like Comic Con Revolution would not be possible. We strive to create the best possible experience for attendees, exhibitors and guests alike. Our team of event industry veterans are dedicated to working hard to create that experience for each of you.
About Atomic Crush Events
Atomic Crush Events is an event consultation and management company that was founded on experience and innovation. Bringing together expertise in event management, marketing, sales and business development to create a unique team that can analyze and identify the best course of action when developing a live event. Our philosophy is simple – create the best experience possible for attendees, exhibitors and guests alike.