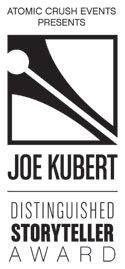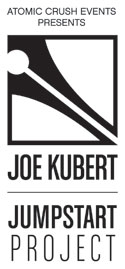 HONORING THE ICONIC JOE KUBERT
Iconic comic book artist Joe Kubert - and his commitment to teaching the next generation of comic book creators - will be honored with a major new award and two scholarship programs announced today. The first ever Joe Kubert Distinguished Storyteller Award will be awarded at the second annual Comic Con Revolution, to be held May 19 & 20 at the Ontario Convention Center in Ontario, CA.
The Joe Kubert Distinguished Storyteller Award is designed to recognize outstanding comic book creators who exemplify both Joe Kubert's artistic talent and his commitment to nurturing the comic book community. In addition, the Joe Kubert Future Storyteller Scholarship is being established by Atomic Crush Events for first and second year students of The Kubert School, while the Joe Kubert Jumpstart Project will help graduates begin their career. The Kubert School will determine the recipient of the scholarship and jumpstart project based on merit and honors. The recipient of the Joe Kubert Jumpstart Project will be named by the school at this year's graduation and the Joe Kubert Future Storyteller Scholarship will go into effect next year, allowing students to apply for the scholarship. The award and scholarship program were announced by The Kubert School in tandem with Atomic Crush Events, which runs Comic Con Revolution and will host the annual Joe Kubert Distinguished Storyteller Award Ceremony.
"With the Joe Kubert Future Storyteller and Jumpstart Project, Atomic Crush Events has not only shown their commitment to building and investing in future creators for our industry but ultimately their love for the medium and their drive to have it not only succeed but thrive," said Andy Kubert. "Thank you so much for this endeavor."
"Joe Kubert was an incredible talent and his impact on the industry both on and off the page really can't be overstated," said Atomic Crush Events Partner and Co-Founder Mike Scigliano. "This annual award and scholarship program will honor Joe's legacy and help nurture the next generation of comic book creators." The award will be presented annually at Comic Con Revolution Ontario.
The recipient of the Joe Kubert Future Storyteller Scholarship will receive a one-time scholarship. Funding for the first annual Joe Kubert Future Storyteller Scholarship is provided by matching contributions from Atomic Crush Events, GeekChic Promotions, Storm King Comics and Superfan Promotions. Interested individuals and companies can also contribute to the scholarship program. The scholarship recipients will be announced later this year.
The recipient of the Joe Kubert Jumpstart Project will receive an artist alley table at any of the Comic Con Revolution events for one year and credit with SGX Print to create a pop-up banner and a limited print run of comic or art books. Storm King Comics' Sandy King Carpenter will review the winning graduates' portfolio, and Superfan Promotions will consult the winner of the award on how to best promote their work.
"Mike Scigliano and Atomic Crush Events have come up with an amazing opportunity for our grads," said Adam Kubert. "They really care about our industry and helping out young creators. I couldn't think of a better or more creative way to jumpstart a young artist's career than the Joe Kubert Jumpstart Project. My Dad was the ultimate storyteller and I know the student that receives this award will work to be one as well."
Widely beloved and acknowledged as one of the greatest comic book artists, Joe Kubert is most frequently associated with his work on Hawkman and Sgt Rock for DC Comics, his illustrations of Tarzan, and his gripping war stories. As The New York Times wrote after his death in 2012, "Mr. Kubert was often described as a war artist, but as he made clear in interviews and in his work, it was far more accurate to call him an antiwar artist. His distinctive visual style - raw, powerful and unstinting in emotional immediacy - was ideally suited to capturing the brutality of battle, and capture it he did, over more than a half-century."
In 1976, Kubert and his wife Muriel established The Joe Kubert School of Cartoon and Graphic Art in Dover, NJ. Today, The Kubert School is the country's only accredited trade school for comic-book artists, offering students a comprehensive three-year program. The first graduating class of 1978 included bestselling Swamp Thing artist Stephen R. Bissette, Tarzan artist Thomas Yeates, and Rick Veitch, creator of The One. Alumni include artists Kevin Colden, Amanda Conner, Shane Davis, Jan Duursema, Scott Kolins, Steve Lieber, Alex Maleev, Tom Mandrake, Rags Morales, Tom Raney, Bart Sears, Eric Shanower, and Timothy Truman; writer and inker Karl Kesel, Eisner award-nominated Jared K. Fletcher; acclaimed colorist Matt Hollingsworth; DC Comics VP of Manufacturing Administration Nick Napolitano, and Archie Comics President Mike Pellerito. Current faculty include his sons, the bestselling artists Adam and Andy Kubert, Mike Chen, Jan Duursema and others.
About Joe Kubert
Born in 1926, Joe Kubert began his comics career at the age of eleven as an apprentice in Harry "A" Chesler's comic book production house. He worked in the industry for the rest of his life, and in his more than sixty years in the field he produced countless memorable stories for countless characters, including DC's Hawkman, Tarzan, Enemy Ace, Batman and the Flash. Kubert also edited, wrote and illustrated the DC title SGT. ROCK, which, beginning under its original title OUR ARMY AT WAR, he contributed to for thirty years.
In 1952, Kubert was a principal in the creation of the first 3-D comic book (Three Dimension Comics Vol. 1, No. 1), and his pioneering development of 3-D comics continued with the early appearances of what would become his best-known creation - a heroic caveman named Tor and his adventures "One Million Years Ago." Kubert was also one of the first creators to embrace the long-form version of comics that became known as graphic novels, with his first two works in this medium being a graphic novel of Tor and the war adventure Abraham Stone. In 1996 he produced Fax From Sarajevo, a gripping graphic narrative that earned him accolades in the mainstream and trade press alike. He followed that success with two more historical graphic novels - Yossel: April 19, 1943 (2003) and Jew Gangster: A Father"s Admonition (2005) - as well as crafting two new adventures for DC's iconic soldier with SGT. ROCK: BETWEEN HELL AND A HARD PLACE (2003) and SGT. ROCK: THE PROPHECY (2007).
Kubert was also a pioneer in the realm of comics education. In 1976 he founded the first accredited school devoted solely to the art of cartoon graphics: The Joe Kubert School of Cartoon and Graphic Art in Dover, New Jersey, which has since produced many of today's leading cartoonists. Pursuing this educational path further, in 1998 he established a series of correspondence courses under the banner of Joe Kubert's World of Cartooning, and in 1999 Watson-Guptill published his book Superheroes: Joe Kubert's Wonderful World of Comics, a guide to the art of creating powerful comic book characters. Two of his five children, Adam and Andy, have also achieved great popularity as comic book artists. Joe Kubert passed away on August 12, 2012.
About The Kubert School
The Kubert School offers students a high quality and challenging education in Cartooning and Graphic Art. We are committed to investing our time in preparing our students for the rewarding and exciting careers and opportunities ahead of them. The Kubert School is located in Dover, NJ.