ONTARIO CONVENTION CENTER • May 18 & 19, 2024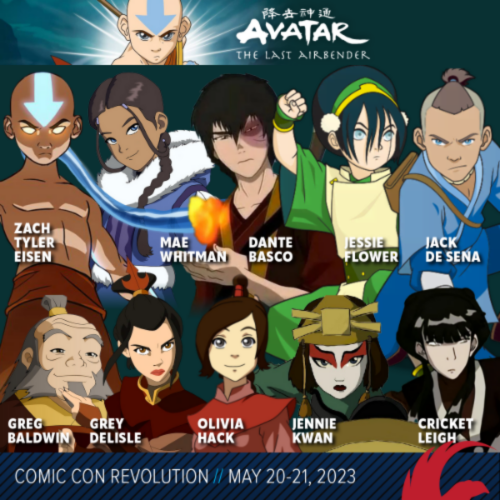 April 26, 2023
Join us Saturday 5/20 1:30pm, Room 203ABC
A tremendous Avatar: The Last Airbender cast gathering that you can be part of! Join Olivia Hack (Ty Lee), Jennie Kwan (Suki), Cricket Leigh (Mai), Greg Baldwin (Uncle Iroh), Grey DeLisle (Azula), Jessie Flower (Toph), Dante Basco (Prince Zuko), Jack De Sena (Sokka), Zach Tyler Eisen (Aang), and Mae Whitman (Katara) to reminisce and hear stories about one of the most beloved animated worlds of all time. ATLA fans, DO NOT MISS THIS!
Wristbands Distribution Information
Avatar: The Last Airbender Panel Wristband Distribution 11:30AM-12:00PM (Panel 1:30PM-2:30PM):
Distribution of wristbands is free to attendees with a valid Saturday or weekend admission to CCR. For those who wish to attend the panel taking place in Room 203 @ 1:30PM, wristband distribution will begin at 11:30AM in Room 202AB. Wristbands will be first come, first serve as supply is available. Once you receive a wristband, your admission into the panel is guaranteed as long as you arrive at Room 203 in the convention center on Saturday before 1:20PM. Those who do not arrive before the designated cutoff will forfeit their place in the panel room.
Room 203 room will be cleared at 12:30PM; no camping or seat holding will be allowed from the morning panel sessions. We will begin seating wristband holders for the Avatar panel at 12:30PM. Seating is first come, first serve with the exception of ADA seating.
ADA seating is limited. If a wristband holder requires an ADA seat, please let us know when picking up their wristband.
Wristbands are valid only for admission into the Avatar: The Last Airbender panel and will not be honored for any other special events or admission to CCR. For convention attendees who could not acquire a wristband, we will have a standby admission line that will begin at 1:00PM. Standby admission is not guaranteed.
Get your photo ops & autographs
clicking here
.
Get your tickets by
clicking here
.
_________________________
Comic Con Revolution
May 20 & 21, 2023 | Ontario Convention Center